Rodent Control
Rats and mice can be a real problem in Utah County. Carrying diseases and germs,
rodents should be dealt with quickly.
Get Service
Rat and Mouse Removal
The first step in rodent control is identifying where rodents are nesting and breeding. We inspect around the house for small holes that might become highways for rodents. By placing traps and baits near these holes, we lure the rodents from their hiding places and into our traps. The last thing you want to have happen is to have dead rodents in the walls, so instead of just setting out poison, we use active trapping. Rodents breed very quickly, so if you suspect you have an infestation, give a pest control professional a call.
Signs of An Infestation
Rats and mice will leave behind telltale signs around your home. If you see one or more of these signs, then it's best to call a professional.
Rodent droppings around food packages in drawers, cupboards or under the sink
Rub or gnaw marks on the baseboards
Holes chewed into wood or sheetrock
Nesting materials such as fabric or shredded paper
Scratching or scurrying sounds in the walls
My Guy Pest and Lawn Solutions only uses products that are pet and kid friendly, so you can rest assured that your family will be safe.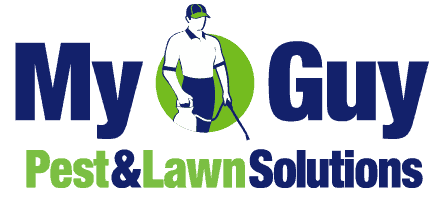 We serve all of Utah and Cache counties.
Alpine, American Fork, Avon, Bluffdale, Cedar Hills, Draper, Eagle Mountain, Herriman, Highland, Hyde Park, Hyrum, Lehi, Lewiston, Lindon, Logan, Mapleton, Milville, Nibley, Orem, Provo, Providence, Richmond, Riverton, Sandy Saratoga Springs, Smithfield, South Jordan, Spanish Fork, West Jordan
Utah County Office
560 S State St Suite L1
Orem, UT 84057
Cache County Office
340 S 100 E
Hyrum, UT 84319