Ant Control
Left unchecked, a single ant can turn into an infestation quickly.
Call us today to get rid of your ants.
Get Service
Ant Extermination
You may think that ants are minor, harmless little creatures, and typically, they are when it comes to a small colony. Larger colonies, however, can cause tremendous damage to a home. At My Guy Pest and Lawn Solutions, we carefully inspect your yard and your home for signs of ant colonies. By applying our products throughout the yard and in the cracks and crevices in your home, we leave ants no chance to cause long-term issues. By attacking the ants where they nest and breed in the lawn, we eliminate ant infestations quicker than any other pest control company.
Ant Identification
With over 12,000 species of ants on Earth, controlling them can seem like an impossible task. Thankfully, our team of experts at My Guy Pest and Lawn Solutions knows how to identify and treat all types of ants common to Utah County and Cache County. The most common ants, red and black pavement ants, will send out scout ants to find food. When you see a single ant by itself, most likely it is a scout ant. Once the ant has found a source of food, it will leave a scent trail all the way back to the colony. This scent trail is then followed by the rest of the colony, the reason why you typically see ants walking in a single file line.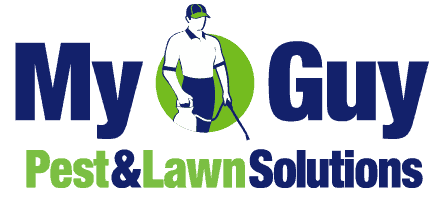 We serve all of Utah and Cache counties.
Alpine, American Fork, Avon, Bluffdale, Cedar Hills, Draper, Eagle Mountain, Herriman, Highland, Hyde Park, Hyrum, Lehi, Lewiston, Lindon, Logan, Mapleton, Milville, Nibley, Orem, Provo, Providence, Richmond, Riverton, Sandy Saratoga Springs, Smithfield, South Jordan, Spanish Fork, West Jordan
Utah County Office
560 S State St Suite L1
Orem, UT 84057
Cache County Office
340 S 100 E
Hyrum, UT 84319