expert lawn care
Maintaining a green, weed-free lawn in Utah is tough work. We customize our services to your needs, giving you a fuller, healthier and greener lawn.
Affordable lawn care services
It shouldn't cost an arm and a leg to have a beautiful lawn in Utah. We want to deliver value up front by offering a FREE lawn evaluation with no obligations. We will inspect your entire lawn and will formulate a custom plan for you. Sound's pretty good, right?
Services we offer
We are committed to giving you a healthy, high quality lawn, no matter what your needs are. Whether you choose one or all of our lawn maintenance services, we promise you'll be pleased with the high quality service we offer.
lawn aeration
Lawn aeration is one of the most valuable lawn treatments for having a healthy yard. By removing small cores of soil and grass around the yard, your lawn receives more moisture, air and fertilizer, making for a healthier lawn.
lawn fertilization
Fertilizing your yard gives your grass vital nutrients for growth. By feeding your lawn the proper nutrients, your lawn will be thicker and greener. A fuller yard also helps to keep weeds from growing out of control.
weed control
Different times of the year bring different types of weeds. By targeting the seasonal weeds before they even begin growing, your lawn will stay weed-free, all year long. Let us handle your weed removal.
lawn disease control
Seeing brown spots in the yard? Is extra water not getting rid of the spots? You could have a lawn fungus. There are many types of lawn diseases, including mushrooms and necrotic ring spots. 
A Home Services Company you can trust
There are plenty of companies out there that can get rid of your bugs, take care of your yard or maintain your trees. Only My Guy Pest and Lawn Solutions offers all three in one, giving you a guarantee for every square inch of your property. We will improve your entire property, from the front curb to the back fenceline.
Licensed and Insured
With years of experience and all of the necessary agricultural licenses, you can rest assured that My Guy has your back.
Locally Owned and Operated
We aren't run by some big corporation. Your money stays local when you choose My Guy Pest and Lawn Solutions.
We stay in touch
Frustrated when your service company doesn't call you back? Us too. We aim to be responsive and caring with our services.
it's time to have the jones' keeping up with you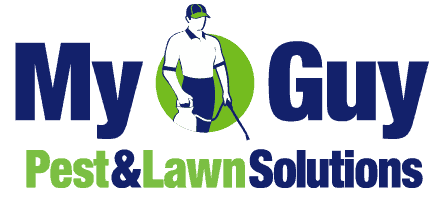 We serve all of Utah and Cache counties.
Alpine, American Fork, Avon, Bluffdale, Cedar Hills, Draper, Eagle Mountain, Herriman, Highland, Hyde Park, Hyrum, Lehi, Lewiston, Lindon, Logan, Mapleton, Milville, Nibley, Orem, Provo, Providence, Richmond, Riverton, Sandy Saratoga Springs, Smithfield, South Jordan, Spanish Fork, West Jordan
Utah County Office
560 S State St Suite L1
Orem, UT 84057
Cache County Office
340 S 100 E
Hyrum, UT 84319