Boxelder Bugs
Boxelder bugs are a nuisance for any home and yard.
We're here to get rid of them for good.
Get Service
Boxelder Bug Identification
Boxelder bugs are black bugs with reddish orange markings on their back. They have 6 legs and a long, flat body about half an inch in length. Having wings, these flying nuisance bugs will typically be seen during the spring in massive numbers invading homes and eating the leaves of trees. Although they aren't dangerous to humans, they can bite when provoked, leaving a small red bump on the skin. Because of the unpleasant odor they produce and the stains their fecal material leaves, they should be handled by a pest control professional.
Boxelder Bug Removal
Sealing off entryways into the home, even small ones, will help prevent boxelder bugs from entering your home. Use silicon caulk around window cracks and door sweeps underneath doors to create a tight seal. If there is already an infestation of boxelder bugs in your home, do not attempt to kill them with chemicals, as their dead bodies attract beetles, causing another problem altogether. My Guy Pest and Lawn Solutions is skilled at eliminating boxelder infestations. Give us a call today!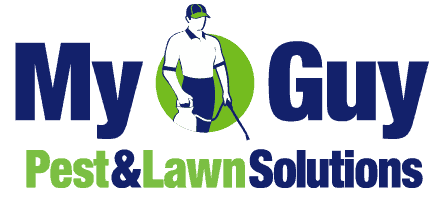 We serve all of Utah and Cache counties.
Alpine, American Fork, Avon, Bluffdale, Cedar Hills, Draper, Eagle Mountain, Herriman, Highland, Hyde Park, Hyrum, Lehi, Lewiston, Lindon, Logan, Mapleton, Milville, Nibley, Orem, Provo, Providence, Richmond, Riverton, Sandy Saratoga Springs, Smithfield, South Jordan, Spanish Fork, West Jordan
Utah County Office
560 S State St Suite L1
Orem, UT 84057
Cache County Office
340 S 100 E
Hyrum, UT 84319