Bed Bug Control
Bed bugs are incredibly hard to get rid of and can be picked up
easily. Call us today for a free inspection.
Get Service
Bed Bug Identification
Bed bugs are flat, reddish colored insects with 6 legs. Even though they are called bed bugs, they are not always found in beds. They can also nest and breed in the cracks of furniture, mattresses, floors or the walls. Typically, bed bugs are most active at night and when they bite, they will leave small red bumps on your skin. If you find small brown or red stains on your sheets or bedding, the likely cause is bed bugs. Bed bugs feed on the blood of humans and animals, hence the small blood stains left behind.
Bed Bug Treatment
When it comes to having the most effective bed bug treatments, following the instructions that your pest management professional gives you is crucial. Typically, you will need to wash any cloth items in the house, such as sheets, blankets, clothes and pillows. Depending on the severity and the location of the infestation, we will recommend a custom treatment plan. We guarantee that after a bed bug treatment from My Guy Pest and Lawn Solutions, you will be able to rest easy at night, bed bug free.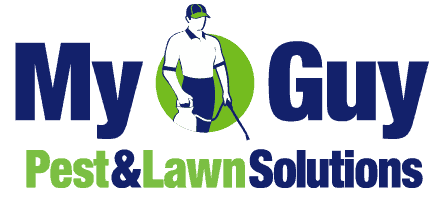 We serve all of Utah and Cache counties.
Alpine, American Fork, Avon, Bluffdale, Cedar Hills, Draper, Eagle Mountain, Herriman, Highland, Hyde Park, Hyrum, Lehi, Lewiston, Lindon, Logan, Mapleton, Milville, Nibley, Orem, Provo, Providence, Richmond, Riverton, Sandy Saratoga Springs, Smithfield, South Jordan, Spanish Fork, West Jordan
Utah County Office
560 S State St Suite L1
Orem, UT 84057
Cache County Office
340 S 100 E
Hyrum, UT 84319